Vegan Smoothies: Sweet and Delicious
Fruit smoothies are delicious, versatile and easy to make.  You can make these sweet and creamy beverages with dairy-free products for a delightful vegan smoothie.  If you like, you can even boost the nutrient content by adding protein powder or cold-pressed oils.  Even children will love vegan fruit smoothies because they taste so good.  You can prepare them in a million different ways so that your taste buds will never get bored.
How to Make a Delicious Vegan Fruit Smoothie
If you plan on making smoothies for your snack or as a meal replacement, make sure you always have frozen bananas and non-dairy milk on hand.  With these basic ingredients, you can whip up a delicious smoothie in a flash. Simply add whatever fruits you have on hand and you'll have a variety of smoothies to enjoy.
To make your basic fruit smoothie, combine soy milk, frozen banana slices, and whatever other fruits you have on hand.  Blend at high speed until smooth.  Serve and enjoy.
Tips for Making Fruit Smoothies
Soy milk and bananas provide a creamy base for your fruit smoothie.  If you have blueberries on hand, add them to the banana and soy milk.  Throw in a few ice cubes and blend until smooth.
You can also add other fruits such as strawberries, peaches, mangoes or pineapple.  Fresh or frozen fruits are equally good.  When using frozen fruits, you will not need as much ice.
Peanut butter is also a good ingredient to add to your smoothie.  It contains protein, vitamins, and healthy fats.
Instead of soymilk, you can add fruit juices such as orange juice or pineapple juice.  A combination of soymilk and fruit juice is also a delicious option.
Fruits in season are cheap and plentiful.  You may want stock up on fruits and store them in the freezer.  Frozen fruits will keep for months.
If you have kids, get them to help in preparing the smoothies.  It will be fun and they'll be more eager to try your vegan fruit smoothies.  This is also a good way to start them off on the road to a healthy lifestyle.
Very Berry Vegan Smoothie
1 cup berries of your choice
2 frozen bananas, sliced
2 cups rice milk or almond milk
Process all ingredients in a blender until smooth.
High-C Smoothie
2 frozen bananas
1 orange, peeled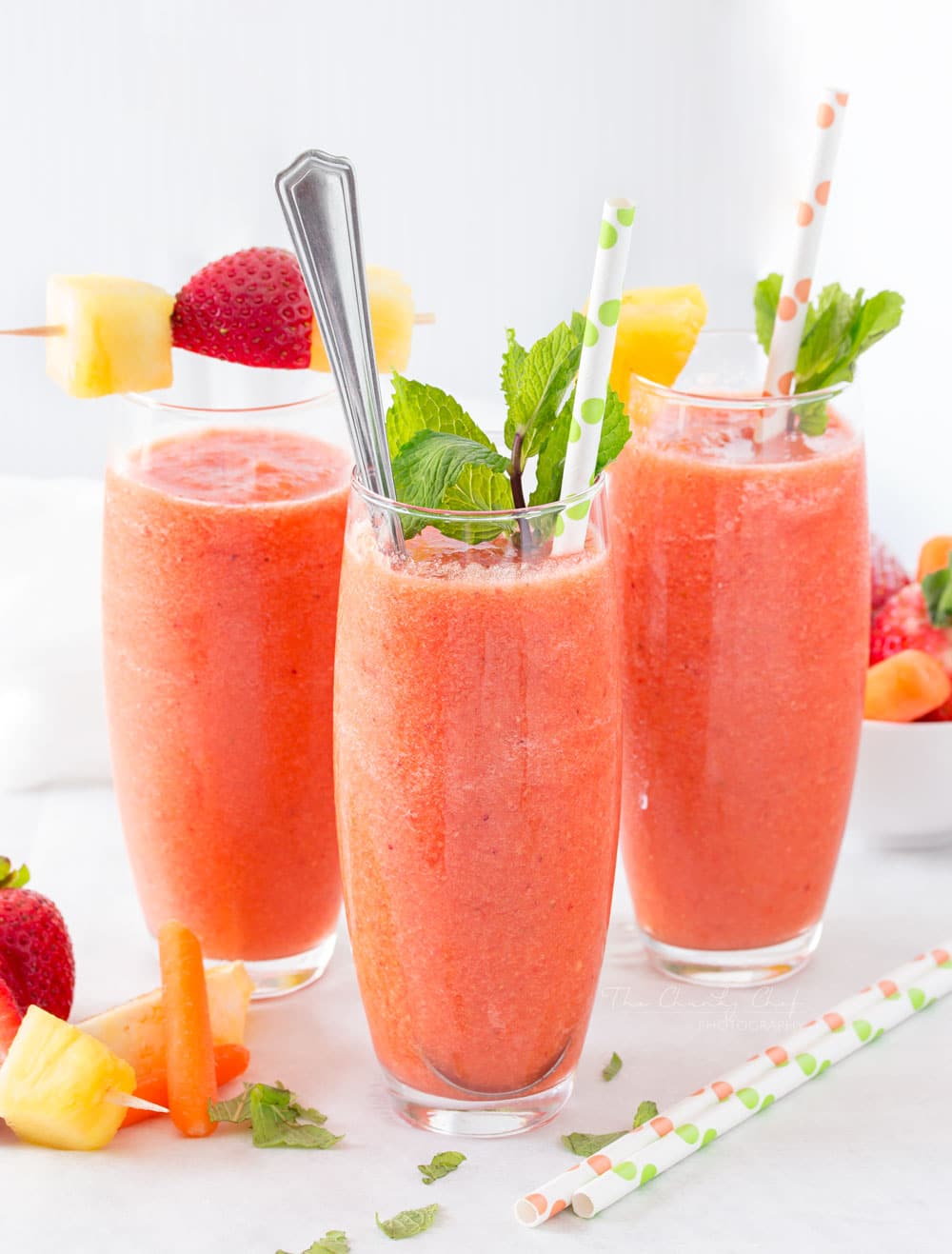 2 kiwis, peeled and sliced
1 cup frozen strawberries
1/2 cup frozen blueberries
2 cups orange juice
Blend together all ingredients until smooth.
Peach Mango Smoothie
1/2 cup frozen mango slices
1/2 cup frozen peach slices
2 frozen bananas, sliced
2 cups soy, rice or almond milk
1 tsp flaxseed oil (optional)
Combine all ingredients and blend until smooth.
Article source – http://smoothierecepty.cz